Excelerator: Highly Performant Real Time Excel for Market Professionals
Excelerator is Arcontech's popular; fast, efficient and reliable Microsoft Excel Add-In for high performance real time reception and publishing of market data. Excelerator is vendor independent, giving flexibility and the control to manipulate data from many sources using Excel's rich mathematical and display features.
Excelerator integrates directly with multiple platforms at the same time, including CityVision, Refinitiv RTDS (TREP), Bloomberg B-PIPE, OpenMAMA and Solace, supporting dynamic reception and contribution of records, chains and pages. Excelerator also has the ability to build pages and shred data within both simple and ANSI pages. An intuitive GUI allows ease of data setup and the means to check for errors within spreadsheets. Further an advanced API for VBA offers complete automation of reception and publishing tasks from Excel macros.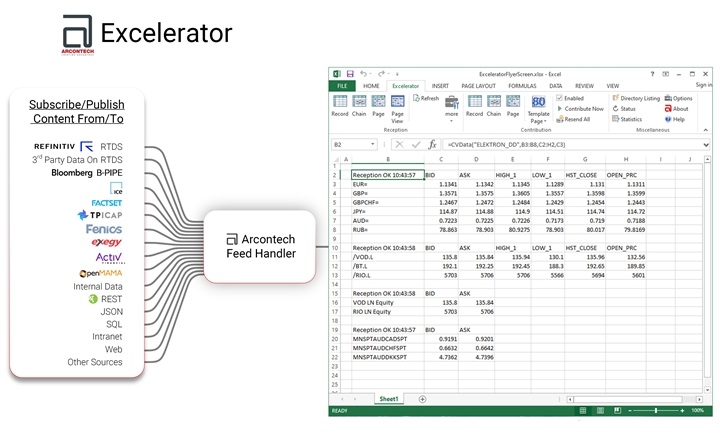 Excelerator Highlights:
Highly efficient: Excelerator has the ability to deal with the most complex and taxing market sheets in the financial market place.
Subscribe: Receive data from multiple sources including vendors, direct feeds from content creators such as exchanges along with internally generated prices.
Build larger worksheets: Excelerator is highly optimised. The "out of process" configuration can allow worksheets to exceed 1GB without issue.
Publish: Calculate and publish content to vendors, internal destinations such as colleagues or internal system or even clients directly.
Proven and reliable: Used by numerous Tier 1 institutions and hundreds of financial market participants across the globe.
API support: APIs in various languages are available so that you can build out Excelerator to meet your specific requirements.
Compliance friendly: Full DACS and EMRS compliance with a contribution audit trail by user name (requires audit server).
No need for migration: Compatibility mode allows current sheets to used with no migration or changes required.