CityVision: Real-Time Market Data Platform
CityVision is Arcontech's market data platform for real-time data reception, transformation and publishing. It enables data collection and aggregation from multiple sources, distribution to multiple destinations, internal and external (including vendor contributions), desktop terminal display and real-time streaming updates to and from the web.
CityVision is fast, flexible, scalable, secure and interoperable with 3rd party systems (such as Refinitiv RTDS (TREP) and Bloomberg Platform) to provide cost-effective and value added functionality. CityVision's modular and resilient architecture is fully cloud compatible and includes components for real-time calculations, data management, data publishing and contributions as well as enterprise wide distribution making it an ideal solution for a global or internal platform and transport layer.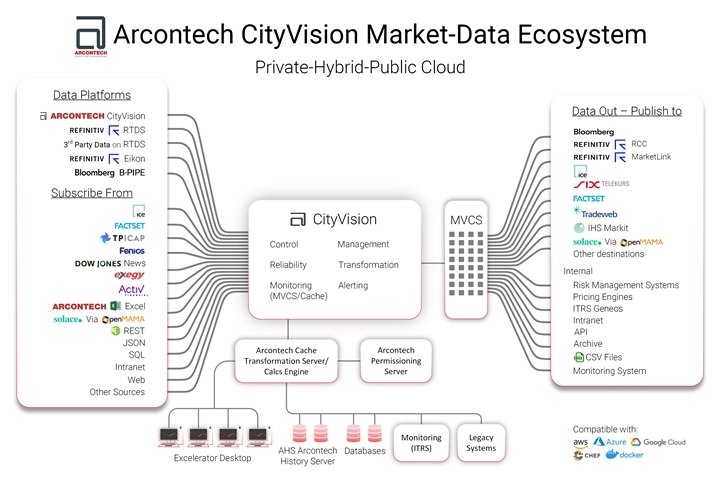 CityVision Highlights:
Data and Vendor Independent: providing choice and helping meet regulatory obligations.
Scalable: Distributed architecture for flexible, optimised deployment in the Cloud, On-prem or Hybrid
Containerisation: Docker and Chef compatible

Flexible: Interoperable with multiple data sources.
Componentised: Seamlessly integrates with other platforms and systems to enable the replacement of individual components as required rather than wholesale change.
Comprehensive API: Send and receive market data between various platforms or build customised applications using a simple, efficient, common API.
Resilient: High availability with automatic fail-over to hot-standby.
Efficient: Advanced threading design to maximise multi-core, multi processor benefits.
Multiple operating systems: Support for Redhat Linux and Microsoft Windows with fully multi-threaded software.
System monitoring: Full status visibility via GUI, API or 3rd party monitoring systems.