CityVision: Real-Time Market Data Platform
CityVision is Arcontech's market data platform for real-time data reception, transformation and publishing. It includes collection and aggregation from multiple sources, distribution to multiple destinations (including vendor contribution), dealing desk display and real-time streaming web updates.
CityVision is fast, flexible, scalable, secure and interoperable with 3rd party systems (such as Refinitiv TREP) to provide cost-effective and value added functionality. CityVision's modular and resilient architecture includes components for calculation, data management, data contribution, enterprise wide distribution making it an ideal solution for a global or internal transport layer.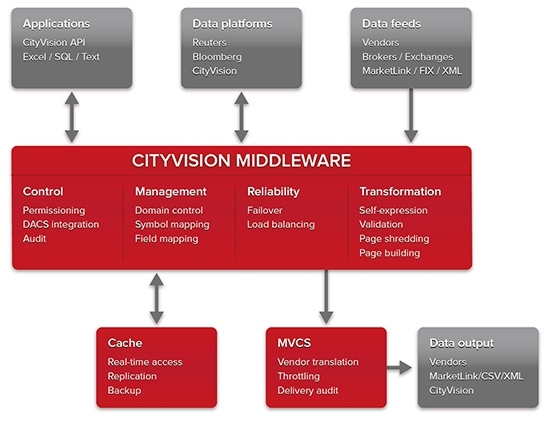 CityVision Highlights:
Data and Vendor Independent: providing choice and helping meet regulatory obligations
Scalable: Distributed architecture for flexible, optimised deployment
Flexible: Interoperable with multiple data sources
Comprehensive API: Send and receive market data between various platforms  or build customised applications using a simple, efficient, common API
Resilient: High availability with automatic fail-over to hot-standby
Efficient: Advanced threading design to maximise multi-core, multi processor benefits
Multiple operating systems: Support for Redhat Linux, Solaris X86 and Microsoft Windows with fully multi-threaded software
System monitoring: Full status visibility via GUI, API or 3rd party monitoring systems