CityVision Symbol Mapper: Real-time data conversion
CityVision Symbol Mapper allows Market Data Managers to separate data integration from the data source, the solution empowers an organisation to select their market data independently of the application requirement.
Integrated with market data platforms such RTDS (TREP), data can be transformed to schema determined by the client to meet their specific requirements thereby minimising the need for application re-development to support alternative data sources.
Symbol Mapper enables an organisation to select the most appropriate source of data based on their specific requirements e.g. coverage, cost, latency and/or data quality/reliability. Data sources can also be blended for redundancy purposes if required.
Symbol Mapper is highly versatile. It helps to reduce overall market data spend, can be used as a tool for gradual on-boarding and/or migration to a new data vendor, allows bridging of data vendors across multiple data platforms and supports data redundancy without change to applications.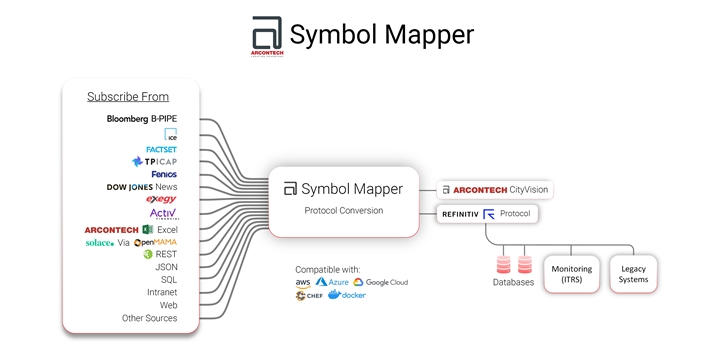 CityVision Symbol Mapper Highlights:
Enables choice of the best source for your data and normalisation of data symbology
Data naming conventions can be standardised and presented in a format to suit your needs
Greater choice of desktop display reducing costs
Server based mapping minimising the need for application re-development
Rules can be assigned per instrument or using group templates
Catch-all rules can route data from preferred source as pass through
Full redundancy
Enables the use of other sources e.g. internally generated prices, broker feeds, platform feeds