Desktop
Excelerator Desktop provides an intuitive and customisable graphical user interface (GUI) that seamlessly integrates multiple internal and external real-time data sources into a single-screen format. It allows end users to view and consume real-time data from the sources they want without compromising speed or quality or paying the enormous subscription fees charged by data vendors to have access to paid-for data that is neither used nor required.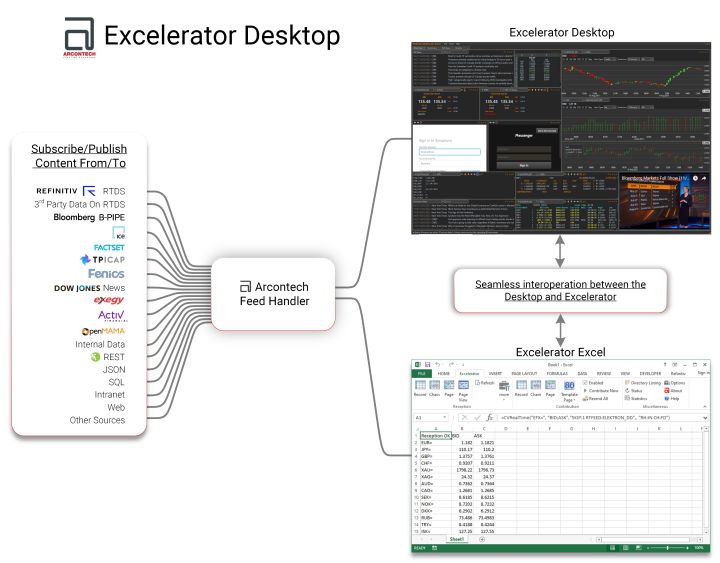 Both a professional display terminal and integrated Excel add-in, Excelerator Desktop connects to RTDS (TREP) to allow display and use of any licensed real-time data in that platform. Excelerator Desktop can also bypass RTDS (TREP) to receive consolidated feeds like Bloomberg Bpipe, ICE or Factset, as well as direct feeds such as Dow Jones News, Alliance News, MNI, TPICAP, Fenics, BGC and Exegy. Other feeds can be added on demand. Further, it can display your own internal data and calculate prices to be compared with market prices and or published to colleagues, clients and vendors. Any combination of delivery options can be deployed. Participation in your trading community is enabled with Symphony and Eikon Messenger which have been integrated so that you can stay connected.
To normalise the presentation of multiple data sources, additional functionality such as Template Builder allows familiar templates to be created and shared with other users, whilst Smart Panels can be used to build your own features and functionality and also enables the use of a RESTful interface and JSON and SQL queries. The Smart Panel Designer enables the user to create data processing and display screens ranging from simple designs to more complex interactions such as heat maps, symbol mapping and other API type functionality where market data from multiple protocols can all be intermixed in real-time.
Desktop can integrate with other front end systems found on financial market participant desktops. This both consolidates workflow and minimises the precious real estate footprint.We also have an API should in-house customisation or development be preferred.
Desktop is an alternative to a costly vendor terminal. With B-PIPE users can view Bloomberg content, it also allows users to source data directly from multiple other internal or external sources to avoid high terminal fees. All content being properly permissioned. It is completely flexible.
Cost effective alternative to Vendor terminals with no impact on data quality
Interfaces with CityVision or direct to platform (eg. Refinitiv / Bloomberg)
Supports multiple vendor, direct to source and internal feeds
Market leading intuitive user interface
Smart Panels allows users to build and add their own features and functionality
Integrates with existing permissioning systems
Provided with Excelerator
Broker page display and shredding in Desktop and Excel
Allows publishing and contribution of market data