CityVision Cache: Connected Real-Time Data Sharing
A "last-value" cache sometimes known as a "transformation server" is at the heart of many Market Data publishing systems, providing you the means to exchange data in real-time throughout the enterprise. The CityVision Cache is a high performance, reliable real-time data repository that can add value with its calculation engine. It connects to various protocols including RTDS (TREP); SSL (Marketfeed), RSSL (OMM) and CityVision. With high throughput and multi OS support, it can operate as a resilient hub for making data available enterprise wide.
The system can also provide a range of mathematical functions for real time calculations that need to be shared.
There are no single points of failure so a CityVision Cache system keeps your operation running and your data safe with no downtime, even during software upgrades. Data and configuration are constantly backed up and may be replicated to multiple caches, located locally or distributed geographically. In the event of hardware, network or other failure a partner CityVision Cache seamlessly picks up the contributions, calculations and publishing load, meaning zero loss of service. Upon recovery, the Cache will resynchronise data and configuration based on time-stamps to ensure only the latest values are used.
The CityVision Cache runs on Redhat Linux and Microsoft Windows Server platforms and it is a proven and cost effective RTDS (TREP) Cache Solution.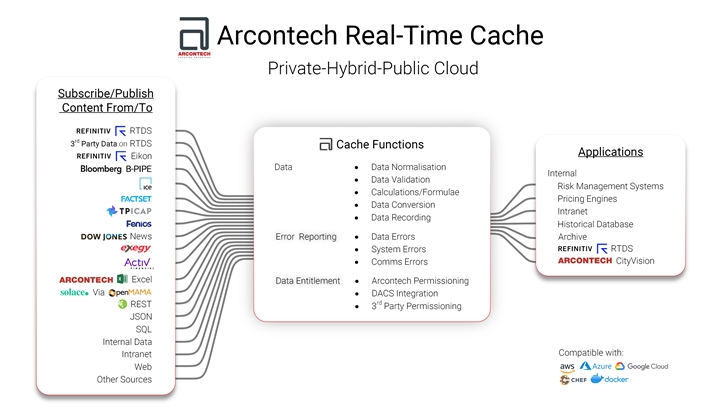 CityVision Cache Highlights:
Proven solution: Proven software components, in use by blue chip clients across the globe
Resilient: Automatic recovery from server or network failure with instant failover to backup systems
Page shredding and calculations: Make compound records using the inbuilt data transformation functions
Multiple operating systems: Support for Redhat Linux and Microsoft Windows with fully multi-threaded software
Comprehensive API: Send and receive market data between platforms using a simple, efficient, common API
Fully dynamic: On-line configuration, on-the-fly field creation and calculation definition