CityVision MVCS: Managed publishing from many sources to many destinations
The CityVision Multi Vendor Contribution System (MVCS) provides the ability to contribute data automatically and simultaneously to multiple destinations, including Refinitiv, Bloomberg, ICE and Six. Data can be received from any source, such as RTDS (TREP), Excel spreadsheets, trading systems, pricing engines and other contributions systems.
By consolidating data publishing with MVCS you can actively manage and take control of your data and determine what is sent and where it is sent to. All data activity is also logged meaning the data path is fully auditable from the publisher to acknowledgement by the receiving party.
All destinations such as Refinitiv, Bloomberg, Factset, ICE, Tradeweb, SIX and internal applications are handled independently and in their required protocol. As well as Refinitiv Contribution Channel, we continue to support MarketLink (MLIP) wherever needed. MVCS is structured so a problem or backlog on one channel will be alerted to the administrator whilst not degrading the performance of others.
MVCS can run across multiple servers with many outputs to each destination, giving increased capacity, added resilience, alternative routing and data prioritisation, for example across time-zones. Hot-standby and load balancing between remotely located servers, coupled with on-line, dynamic configuration minimises risk whilst supporting your global business requirements.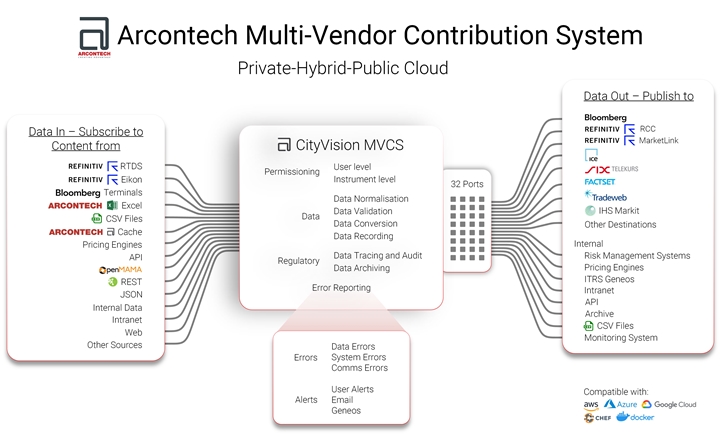 MVCS Highlights:
Vendor agnostic: Independent of data sources and destinations.
Continued Support of Marketlink (MLIP): Enables continued use of Marketlink when required by the destination.
Data Management: Enables centralised management, control and audit of your organisations data.
Cloud compatible: Fully deployable, on-prem, hybrid or cloud.
Fast and efficient: With advanced port load-balancing.
Complete data support: Includes chains, records, pages and mappings between them.
Proven solution: Scalable, multi-threading CityVision technology used by multiple institutions.
Resilient: High availability with automatic fail-over to hot-standby.
Flexible: Full control of throttling and conflation together with filters, alerts and embargo functions.
Intelligent: Dynamic bandwidth optimisation.
Multiple operating systems: Support for Redhat Linux and Microsoft Windows with fully multi-threaded software.
Dynamic configuration: Avoid the need for aftermarket changes.
Comprehensive API: For custom integration.
MVCS works with all CityVision modules, such as the Cache, Excelerator, Desktop and all other components to build a complete and compelling alternative and independent data platform.